Welcome to the new world!
The Bad News
In the next month or so Google is going to be introducing their new mapping api to the world. Their press release is here: Introducing Google Maps Platform.
So what does that mean to users? Your site may break. Well, not the whole site, but the mapping function itself. You may end up seeing an error like this: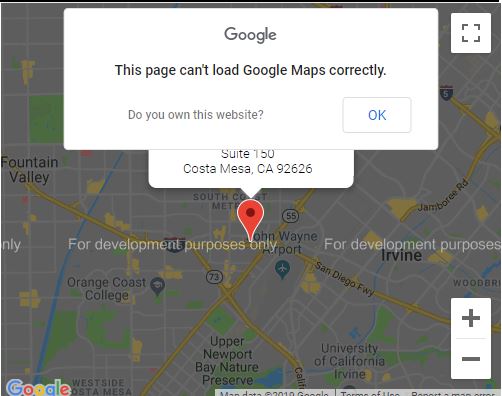 Take note of the HUGE "This page can't load Google Maps correctly" – Do you own this website? Error.
Also the map is has an overlay with "For development purposes only".
Google describes it here:
Once this change goes into effect, according to Google, "…keyless calls to the Maps JavaScript API and Street View API will return low-resolution maps watermarked with 'for development purposes only'."
These are 2 clear indicators that you need to add a credit card to your google account.
The Good News
The good news is that acquiring an API key is easy, and that while entering a credit card is required, if an API key doesn't see a high usage, no charges will actually be made for it—the card info is just used as a way to verify your identity and prevent wanton API key generation.
You can visit the Google Maps Platform to get started on adding an API Key to your site.
If you already have an API key, you'll just need to update it with your billing information, which you can do over on the Google Maps Platform's Guide for Existing Users.
Although you'll have to enter in your credit card information in order to obtain and/or continue using your Google Maps API key, there is a great free pricing tier so that you will not incur any additional costs.
As a side note, you can set limits on your API key usage, so that you can doubly-ensure you don't get charged unexpectedly.
Lastly, most plugin and site developers are aware of this, so if you are not a developer you may want to update your wordpress and plugins and individual plugins will likely guide you through this process if they use the google maps API.
We're committed to making this a seamless transition for all of our Clients who rely on this functionality. If you have any questions, feel free to contact us and we'll make the changes for you.