Your site is live and ready to go, you (or your developer) have spent countless hours making it just right and the site is absolutely spectacular.  The problem?  No one is seeing it?  This guide is just for you as Rudtek is going to give you the guide on how to setup SEO for WordPress.
While this guide is designed with WordPress in mind, many of the specifics can be used for any type of site.  Whether your using Joomla, Drupal, an SAAS site (Weebly, Wix, Squarespace) or even a fully custom site, SEO is important in that it will help your site get not only MORE visitors but get the right visitors as well.  Without further ado here are some steps to setting up better SEO for WordPress.
Make sure Google is finding your site.
WordPress has an option to block robots and discourage search engines from indexing your site.
Go to Settings / Reading and look for the "Search Engine Visibility" setting. Make sure it is switched off.  There is no reason for it to be on other than developing.

Whew, that was easy!  This effectively lets bots like Google and Bing to index your site.  While your in your settings you should also set your permalink settings and decide which option is best for you.  More on that later.  Rudtek also suggests clicking "For each article in a feed, show only summaries" right above the search engine visibility section on this page.
Use SEO Friendly URL Structures in WordPress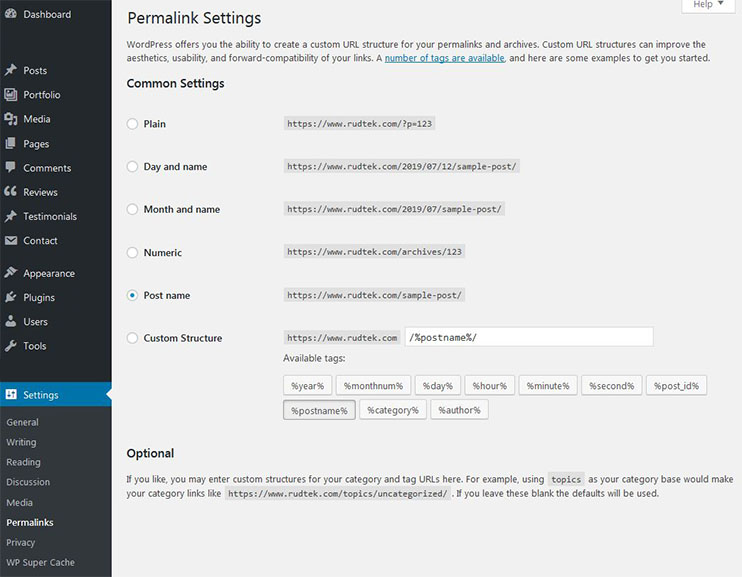 Make sure to change your Permalinks to "postname" in your WordPress settings.  For more detailed instructions take a look at this post on Using SEO Friendly URL Structures in WordPress.
Write good content and write often
This seems strange indeed when discussing essential SEO settings, but we think this is an absolutely crucial SEO tactic. Good content alone is not enough to propel your site to the top of Google, but goes a long-long way. Google has become pretty good at determining what constitutes good content.
A regularly updated site will also help you in your SEO efforts. Not just because Google will see that your site is active, but because there will be more content to base your rank on. In addition, this helps with user engagement and retention as well – a double win.
Have a key phrase
If you're writing about "WordPress SEO settings" you'll probably want to put that phrase in your article a couple of times, but don't overdo it. Just because you have your key phrase eight times in a paragraph won't do anything to budge your ranking – on the contrary, it may send you further down.
Be natural
Write naturally, but be smart. If you have a good opportunity to drop in a keyword or two do so, but don't go overboard. It might be an essential SEO setting, but too much of it and you've done more harm than good.
Make internal linking a habit
Search engines assign each page on your website a score (page authority). The recipe of this score is kept secret so that people cannot game the results. However, the most common signals of authority are links.
This is why it's important that you link to your own content from your other blog posts and pages.
This will help you boost your pageviews, increases the time users spend on your site, and ultimately will improve the SEO score of your individual blog posts and pages.
Use categories (correctly)
WordPress uses categories and tags to help you organize the content on your blog.
The general idea with categories and tags is to:
use categories to group your posts under a common topic
use tags to single out individual aspects or sub-topics of your posts
The main SEO benefit of this way of organizing content is that WordPress creates separate archive pages for your categories and tags. If you create a good category and tag structure, those automatic category and tag archive pages become valuable resources on their own and your site seems bigger and more inter-linked according to the search engines.
Optimize your site for speed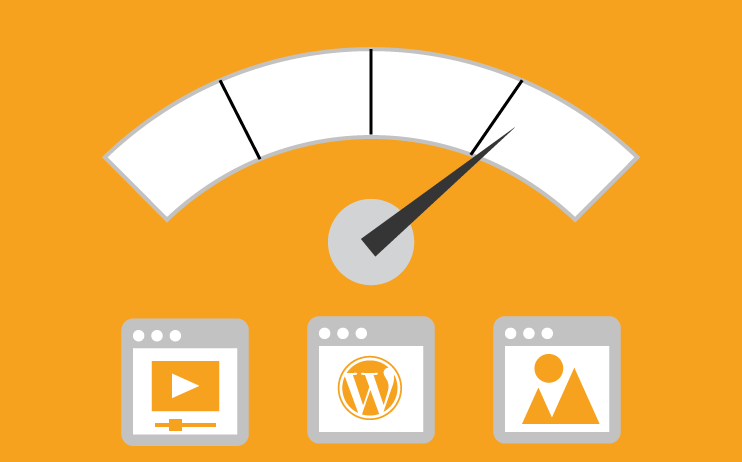 While fully optimizing your site is a completely different guide, website speed is a crucial factor. Google takes it into account as well. Moreover, site speed has a number of other effects which will add together to grind all your efforts to a halt.  There are several considerations to take into account.
Plugins
How many plugins are you using?  More plugins = more functions = more server overhead.
Remember from up above?  Keep them updated, and if you're no longer using them, completely uninstall them, don't just de-activate them.
Images
Obviously, images are good.  They are more engaging than just text.  However, if you are not careful with image sizes and quality, then they can slow down your website.
Don't upload images larger than you will need.  If your site content container is only 1200 pixels wide, there's never a reason to upload images wider than that.
Do your best to optimize the images as well.  They don't need to be 100% TIFF.  JPG (60-70% quality) and PNG (if you need transparency) will usually do the trick.
Take advantage of how you name them.  Also be sure to add alt, and description tags as this will help the search engines understand why you're using the images and how they relate to the content.
The server itself
Choosing a good hosting provider could be half the battle.  Often it's the case of you get what you pay for.
Site speed is a critical factor in early exits, bounce rates, page view times because it directly affects user experience. As such, you will retain fewer visitors, your SEO rank will drop which will lead to even fewer visitors and many of those who stay will become increasingly frustrated.
Not sure if your site is speedy or what to do to speed it up?  Check out Pingdom for a quick site speed test.
Use an SEO plugin
Rudtek uses and recommends Yoast SEO plugin as THE SEO plugin for WordPress.  There are others as well, but Yoast is always being updated to keep up with search engine changes and contains everything you'll need to make your site an SEO powerhouse, effectively taking care of all your essential SEO settings.
The good thing about Yoast is that it basically works right out the box and doesn't require any difficult configuration. For the most part, you're good to go with factory settings.
That being said, fine tuning some things will only take a couple of minutes and can pay off.  If you have the time it's worth making a few changes.
Start SSL/HTTPS
This really isn't a suggestion.  If you have a site, you should be running it with an SSL certificate.
SSL (Secure Sockets Layer) is a technology that encrypts the connection between a user's browser and the server they are connecting to. This adds an additional security layer to your WordPress site.
Websites secured with SSL are indicated by a padlock sign in the browser's address bar. This makes your website more trustworthy, and it is required if you are running a site that accepts credit cards
Often hosting providers will give you a free self-cert or offer other options to make sure your site is secured with SSL.  You can also get free SSL with Let's Encrypt.
Use Responsive Design on Your Site
More people than ever are using mobile devices to browse the internet. This means your site needs to look and perform as good on any type of device a visitor happens to be using. You can ensure this by following the strategy of responsive design — in other words, designing your site so it reacts and adapts to each user's device.
Responsive design is so important that Google uses it as a ranking factor. If your site is responsive, its chances of appearing high on SERPs (Search Engine Results Page) will be that much better. For WordPress users, the best way to get started with responsive design is to choose a theme that supports it (which many, if not most, now do), or make sure to request that your developer specifically consider SEO as they are setting up your site.