Apple has more woes with the iPhone 6 bends
Apple has issued an official response to claims that its enlarged smartphone, the iPhone 6 bends, well the iPhone 6 plus that is.
Apple Inc. on Thursday defended against reports that its largest iPhone bends easily in people's pockets, saying warping is "extremely rare" through normal use.
Since going on sale Friday, Apple said only nine customers have contacted the company about a bent iPhone 6 Plus—the larger and more expensive of its two new iPhones. Apple said both the iPhone 6 and iPhone 6 Plus passed a series of tests meant to check the products' strength and durability through everyday use.
The nine complaints, however, does not include those who have contacted retailers or insurance companies, and does not take into account how many customers have yet to take any action.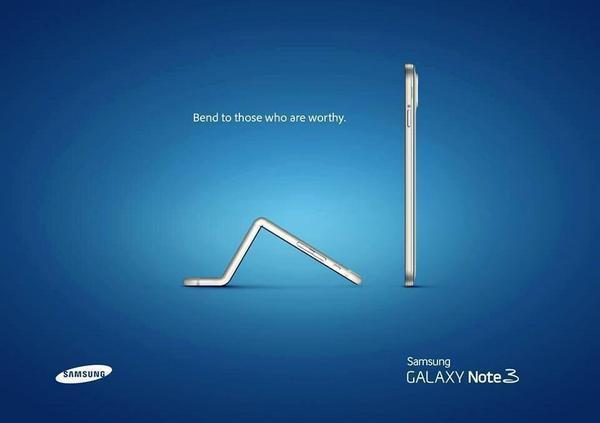 One YouTube video, demonstrated that the iPhone 6 Plus can be bent by hand. The back of the iPhone 6 Plus features a six-inch aluminium casing, which appears to be the part of the phone that is not resisting the pressure.  Apple said the phones also feature stainless steel and titanium inserts to reinforce high-stress locations.
"Our iPhones are designed, engineered, and manufactured to be both beautiful and sturdy," Apple wrote in a statement issued to The Verge.
While acknowledging the issue, Apple has played down the severity of it. The company says that the iPhone 6 and iPhone 6 Plus "feature a precision engineered unibody enclosure constructed from machining a custom grade of 6000 series anodized aluminum, which is tempered for extra strength."
It added: "They … use the strongest glass in the smartphone industry. We chose these high-quality materials and construction very carefully for their strength and durability. We also perform rigorous tests throughout the entire development cycle including 3-point bending, pressure point cycling, sit, torsion, and user studies. iPhone 6 and iPhone 6 Plus meet or exceed all of our high quality standards to endure everyday, real life use.
"With normal use a bend in iPhone is extremely rare and through our first six days of sale, a total of nine customers have contacted Apple with a bent iPhone 6 Plus. As with any Apple product, if you have questions please contact Apple." In other words, the iPhone 6 bends, but it may not be abnormally.
It's not all sad.
While apple may not be having too much fun with the iphone 6 bends.  Other mockeries and parodies are sprouting up all over the web.  including some of it's competitors.
In the Past.

In the past, Apple has sometimes remained defiant against customer complaints about a new product. Most famously in 2010 when it introduced the iPhone 4, then-CEO Steve Jobs struck back at complaints that the phone had a flawed antenna design, causing connection problems. He said the complaints were blown out of proportion and mocked the media frenzy as "antennagate." For the past two days, "#bendgate" has been a trending topic on Twitter.
Apple pointed to five different tests that new iPhones go through in the development process, including what is known as "pressure point cycling test" when it applies substantial force on the display and enclosure hundreds of times while the phone is held by the sides. Apple said this process bends the enclosure repeatedly to ensure that the iPhone can be bent and pressed at reasonable force throughout its life.
Another test, according to Apple, is called the "sit test." This test simulates sitting on a hard surface with the phone in the back pocket of a pair of tight jeans. Apple said it runs the phones through thousands of cycles testing the phone in different positions, in this case testing if the iphone 6 bends or not.
The iPhone 6 Plus with a 5.5-inch display measured diagonally is the largest iPhone that Apple has ever produced. Despite the larger surface area, the iPhone 6 Plus is 7.1 millimeters thin, compared with 7.6 millimeters for the iPhone 5S and 8.97 millimeters for the plastic-encased iPhone 5C.